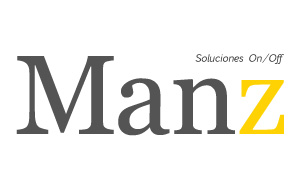 Manz Soluciones On-Off
Categories
- Integral solutions and Consulting
Company type
- Other
C/Santa Catalina, 129
28492 Mataelpino
(Madrid)
Manz Solutions On / Off is a startup dedicated to building and renovating the presence and digital image of our clients.
We measure and analyze the scope and impact of each offer different solutions and web design, usability and user experience, combining all the creative possibilities offered by new technologies.

MANZ ON

WEB DESIGN
We provide solutions in design and usability for web sites and portals. Combining our creativity with technology, achieving an effective outcome and quality.

PRESTASHOP
The best engine for eCommerce shops, your shop with the best applications and functionality in the market. Professionals in the adaptation of the CMS.

WORDPRESS
A platform for the infinite possibilities in applications, combined with elegant design and careful communication strategy for a strong result.

APP MÓVILES
The other side of the coin. The powerful system Android can contain multiple Apps, designed according to the needs of impact of each product and customer.

HTML 5
The entire web base, or commercial project needs. A flexible and sophisticated code, prepared to contain and manage flash animations, JQuery, QT and all media.

CSS3
The new language of adaptation design, animations, and the most modern creations. A real potential for your website. Allows better Responsive Design for the devices.

jQUERY y JS
Essentials to give life to your website with elegant movements. Subtlety and sophistication that accompany a design tailored to the needs of each client.


MANZ OFF

GRAPHIC DESIGN
The image of a company is its trademark. Appealing to creativity, we develop an accurate picture of the needs of established companies or SMEs.

LOGOS
We create your brand image with its own approach, creative and resourceful. Always looking for a design that reflects the properties and philosophy of each project.

CATALOGUES
Make catalogs inspired by the best design, mixing quality, a touch of modernity and creativity. We also handle the entire printing process.

STATIONERY
Renew your stationery is in our hands. Paper, envelopes and cards with innovative finishes and made from a range of roles that enhance their brand presence.

EDITORIAL
We also cover the design of magazines, both internal communication and communication style. Fashion, art, culture, trends and many more.

FINAL ART
We collaborate with other companies that need the support of final art. Outsourcing of these services reduces costs and streamlines printing processes.